Reincarnated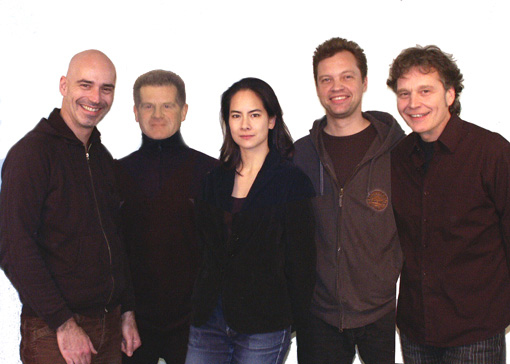 Dirk Schilling, Michael Bruchmann, Ann-yi Eötvos, Andreas Hirschmann, Hans Bäär


On Febuary 25, 2005, EMI re-releases 'Live - Traumstadt' with 2 bonus-tracks. Around the same time, German television, repeats a show about German rock-groups, which they made 30 years ago and which also featured Hoelderlin. There are also plans for a Hoelderlin-reunion, which are at that moment very vague. The line-up is supposed to be: Christoph Noppeney, Hans Bäär, Michael Bruchmann and Rüdiger Elze and a guest on keyboards, meaning a big part of Hoelderlin will be reunited. It kept silent for a long time and finaly there is some news about the reunion, or reincarnation as Christian von Grumbkow names it. The new line-up is:
Hans Bäär: Bass, acoustic guitar, vocals (member of the original group)
Michael Bruchmann: Drums (also member of the original group)
Büdi Siebert: Wind instruments (who guested on several albums and also was a guest at some concerts)
Andreas Hirschmann: Keyboards
Dirk Schilling: Guitar
Marcus Winstroer: Violin, guitar
Ann-yi Eötvos: Vocals, violin

Hans Bäär is very enthousiastic about the first rehearsals and the group will be trying to create a bridge between the past and the current time. In the 70's the group allready was playing trance-grooves, mixed with long improvisations. There are also plans for new albums.

On December 17, 2005, German television had an item about the Hoelderlin reunion and it was said the group would do some 30 or 40 concerts next year. I'll try to translate some more of the interview in the time to come.

On December 18, 2005, Hoelderlin performed in Wuppertal and they had some guests from the past, like Christoph Noppeney and Nanny de Ruig. They played some stuff which they haven't performed live before, like 'Waren wir' and 'Rare Bird'. Alas I couldn't be there, but the pictures Lutz Diehl has made, give a good impression. The light-show was done by Gunther Jäckel (Jäckle?) who has worked with Hoelderlin before. He worked for free this time, just because he liked the return of Hoelderlin. Nowadays he is a famous lightdesigner, who has worked with several German artists and will be doing the lights at the opening of the World Cup Soccer.

On December 20, 2005, the group played in Bonn, which is recorded for RockPalast. Alas Jörg-Peter 'Büdi' Siebert wastn't present. I've written a review of the broadcast, wich can be found here.
Setlist:
00. Intro
01. Schwebebahn
02. Waren Wir
03. Rare Bird
04. Streaming
05. Nürnberg
06. Come To Me
07. Phasing
08. Sun Rays

Pictures were made by Walter P.R. Schnabel in the Harmonie in Bonn.

Christoph Noppeney is working on his own stuff, with lyrics von Christian von Grumbkow.

The fourth part of the series 'Kraut und Rüben' gave some attention to Hoelderlin and showed parts of 3 songs, which was very interesting. One of these parts, a live-recording of 'Sun rays' will be on a DVD with the Rockpalast-show, which should be released in September.

The group has written all material for the new album and they will start recording in the midst of June. In October they will do a short tour with 10 to 15 concerts. The line-up will be the same as on the Rockpalast performancs The new album will be released in January 2007 by EMI Capitol. The old albums will be re-released at the same time and the all will have some bonus-tracks.